Junk Car Removal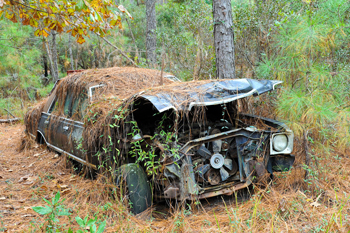 Wrecked or junk vehicles can prevent even the most pristine property from looking its best. No matter what kind of junk car you have taking up space at your home or business, Columbus Towing & Recovery LLC is able to provide professional car removal service to remove that eyesore!
Is your homeowner's association or property manager pestering you to remove a totaled truck from your lawn or parking lot? Call on our team for any kind of junk car removal and vehicle disposal. As Columbus' comprehensive towing company, we're available to haul away cars and trucks from your property to get it back to looking its best.
It can be a challenge to get junk cars removed from properties, particularly in cases with wrecked or totaled vehicles. However, because we are a flatbed towing service, your car or truck doesn't have to be operable for our team to provide junk car pick up service. In fact, it doesn't even have to have wheels for our car removal service to get to work! Whatever the circumstances surrounding your junk car removal needs, Columbus Towing & Recovery LLC can do the heavy lifting for you. Give us a call now, and we'll pick up junk cars and remove wrecked vehicles, large and small.
Affordable Car Removal Service
Columbus Towing & Recovery LLC is a local, family-owned company, committed to providing convenience and affordability in everything we do. Often, a junk car removal service knows when you're in a bind, and they price gouge on your junk car disposal just because they can. Not at Columbus Towing & Recovery LLC! Our professionals are different. We're dedicated to providing wrecked and old car removal in Columbus at a fair price. We're licensed, bonded, and insured with more than 25 years' experience. So, when you need junk car removal in a pinch, we're the obvious choice for the reliable professionals you want on the job.
When you need a dependable vehicle disposal service, remember Columbus Towing & Recovery LLC can remove junk cars, trucks, motorcycles, and more. We provide comprehensive flatbed towing to pick up junk cars, and we combine competitive prices with outstanding service. If you need to have a junk or wrecked car removed from your property, we're your full-service junk car towing service in Columbus, Indiana. Call us now!