Roadside Assistance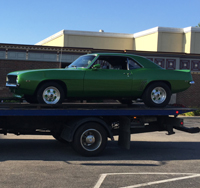 Of course, no one wants to have to call for emergency roadside service. But, if it is needed, it's good to know that there is a seasoned, responsive, and reliable team available to provide roadside tire assistance or jump start service.
Columbus Towing & Recovery LLC has been providing roadside assistance and breakdown services in Columbus, IN and surrounding areas for over 25 years. We are licensed, bonded, and insured for your peace of mind. And we're on call 24/7 to provide emergency roadside assistance for your convenience! We hope you don't need us, but when you do, we are here for you!
Emergency Roadside Service: We've Got You Covered
There are any number of things that could go wrong while you're on the road. At Columbus Towing & Recovery LLC, our towing and road assistance pros have seen most of them and know how to handle each situation. We're on call to help with problems large and small, including the following:
Breakdown assistance
Vehicle repairs
Gas delivery
Roadside tire service
Jump starts
Tow truck service
For roadside assistance in southeastern Indiana, whether it's for something as minor as emergency fuel delivery or as major as flatbed towing service, call Columbus Towing & Recovery LLC now.
24-Hour Roadside Assistance When You Need It
You never know when you'll get a flat tire, have a breakdown, or get into a fender bender. That's why the road side assistance team at Columbus Towing & Recovery LLC is available all day, every day – 24 hours a day, 7 days a week, 365 days a year to help.
When you call us, our goal is to get a technician or tow truck to you as soon as possible, no matter what time of day or night. For most locations around Columbus, our usual turn-around time is just 30-45 minutes for road assistance. We are also committed to getting you the help you need, no matter where you are. When you call us, we will do what it takes to provide roadside services to you.
We know that having an issue with your vehicle while on the road can be stressful and frustrating. Call Columbus Towing & Recovery LLC for breakdown services, and we will do everything we can to get to you quickly, so you can get back on your way. Whether you need flat tire assistance or gas delivery service to make it to the nearest gas station, our team is standing by to serve you around the clock!